Hernan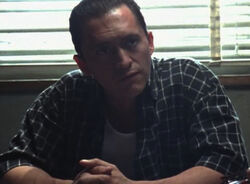 Appeared in
{{{Appearances}}}
Mentioned in
{{{Mentioned}}}
Profession
Undercover agent
Hernando, or simply Hernan, was a federal agent working for ICE under deep cover in a Salvadoran gang.
The detectives at the Barn started looking for Hernan in relation to the San Marcos killings. They realized that he was an undercover agent, and began trying to help him move up the Salvadoran ladder both to help him bring down the organization and so that he could find out who was responsible for the San Marcos murders.
Eventually the Salvadorans learned that there was a mole in their organization. Hernan was forced to kill someone to maintain his cover, and he subsequently went into hiding in El Salvador. He was not seen again for the rest of the series.
The circumstances surrounding Hernan's cover being blown and his subsequent departure are not shown. However it is implied that the Salvadorans learned from the Byz Lats and Cruz Pezuela. Similarly, the murder he commits is not shown, but speculated about by Vic.