Brent Kirkland was a Los Angeles Police Department detective working at the Barn in Farmington.
Before Season 1
Edit
Brent was one of the original detectives at the Barn when it started operating. He and Claudette Wyms knew each other before.
Season 1
Edit
Vic informs Connie about getting her attacker, she wants him to hurt him what he did but Mackey tells him that he will be getting jailtime.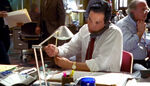 Brent seen working behind Captain Aceveda.
Captain Aceveda comes out with the police uniform, he is the one also applauding him. David later tells Vic that it is the required monthly street duty for the captains.
When Tulips went to the Barn to bring information against her ex-boyfriend, Herk, Shane rejected her. She then approached Brent and started giving her a statement. While he was filling it out, Shane came by and told Brent to forget it because he would take the case.
Some time later, Brent was working the murder of two teenagers. After doing some interviews, he stopped following on the case. When Jeffrey Cole and Lydell Crouch disappeared, Detective Dutch Wagenbach suspected it was the same modus operandi, so Captain David Aceveda recommended him to talk to Brent and consolidate the two cases.
After the murder of Claudette's ex-husband, Captain David Aceveda gave Dutch the case. When Dutch suggested he give it to Brent or Marlon, Aceveda told him that they would be a little short-handed that day and that the case was his. He then called Detectives Kirkland and Marlon up to his office.
Although it is not seen on screen, it is heavily implied that Kirkland was fired by Aceveda by orders of Chief Tom Bankston.
Appearances
Edit
Community content is available under
CC-BY-SA
unless otherwise noted.