Army Renta
Appeared in
{{{Appearances}}}
Mentioned in
{{{Mentioned}}}
Armando "Army" Renta was Shane Vendrell's partner after Shane left the Strike Team at the end of Season Three. Formerly, he was a U.S. Marine Corps reservist returned from Iraq.
Army allowed himself to be drawn into an alliance between Shane and drug kingpin Antwon Mitchell. Eventually, both Army and Shane were framed by Mitchell for the murder of an 11-year-old girl. Vic helped Army and Shane get out of trouble, although Army refused to take a lie detector test that would exonerate the two.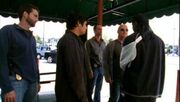 While Shane and Captain Rawling were livid at Army's refusal to take the test, Vic and Lem both separately told Army that they agreed with his decision and allowed Army to walk away from the Strike Team. Army was never officially on the Strike Team — he worked in Vic's anti-gang unit to head up the seizure policy.
Appearances
Edit